Laurence Housman Anniversary Walk Route
July 2014. (C) Thames Path
Accommodation near Hampton Court: hard to find inexpensive b&b near Hampton Court. Carlton Mitre Hotel, Hampton Court, East Molesey, conveniently nearby, charges £132 for two.
Getting there: if coming from London, there are frequent direct trains from Waterloo. At Hampton Court station, bend right and cross the Thames & bend right to riverbank.
7. Thursday 17th ~ Hampton Court to Richmond.
10am - assemble on riverbank, by small 'Boat Trips' jetty ~ for photos & admiring the Palace and Thames. We're now firmly in Three Men in a Boat territory.
10.30 depart - heading downstream on Thames Path past elegantly palatial gates and grace-and-favour houses. We pass Thames Ditton Island (has station on opposite side of river) and on down to Kingston-upon-Thames.
At busy Kingston Bridge we cross river, then left via Canbury Gardens. The houses on opposite riverbank grow visibly elegant. Picnic lunch or eat at Boaters' Inn, reasonably priced with bar tables on balcony overlooking river. Idyllic!
Many small riverside boats & intriguingly eccentric houseboats (also, new building developments looming). Past Teddington Lock and, after Strawberry Hill river-bend, legendary Eel Pie Island with its boathouses, and (on right) Ham House.
After another river-bend, we approach Richmond.
Richmond Bridge: walk ends at open-air Tide Tables Café & garden for tea by river.
Walk distance: about 8½ miles.
Tube station - 10 minute walk away; District Line, also London Overground.
Richmond Accommodation - nearby is Richmond Park Hotel, 3 Petersham Rd, TW10 6UH - 0208 948 4666 - £82.80 b&b for two.
| | |
| --- | --- |
| | |
Left: below Kingston, the houses on the opposite riverbank grow noticeably elegant.
Right: legendary Eel Pie Island - once a mecca for musicians like Mick Jagger & Eric Clapton.
8. Friday 18th ~ Richmond to Hammersmith or Putney.
10 am ~ assemble at Tide Tables Café by riverside (see above for getting there).
10.30 ~ depart Richmond via Thames Path, keeping to eastside riverbank ~ past Old Deer Park and river-bend to Kew Gardens on right. Part Brentford Ait (island) to Kew Bridge (station nearby) and Strand-on-the-Green. We'll aim to have picnic lunch at small recreation ground just after KewBridge. Bring food, as there are no shops along this stretch.
Continue along Thames Path, south side, past giant National Archives, and along to Chiswick Bridge. Continue round the Mortlake river-bend, past Barnes Bridge station, with Chiswick visible on north riverbank.
Option to leave walk at Hammersmith Bridge (near tube station) or to continue along Thames Path (south side) past Fulham to Putney.
End day at open-air café in courtyard by Church Square (St Mary's) on south side of Putney Bridge.
Walk distance: approximately 8½ miles.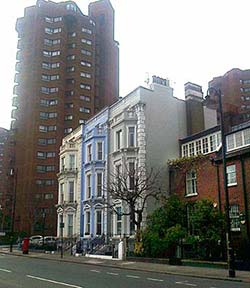 On left, new tower blocks of luxury flats that have recently sprouted up on Chelsea riverbank.
On right, homes of suffragette artists Sylvia Pankhurst and Maud Joachim, Cheyne walk.
Note: Originally we planned to continue along the Thames. However large-scale building sites and new tower blocks by Wandsworth Park, Battersea & Chelsea Creek make this less pleasant walking. So instead we'll rely on public transport to get us straight to Chelsea.
There is a range of accommodation in the Putney-Chelsea area, plus good tube & bus links.
9. Saturday 19th - Chelsea (Cheyne Walk) to Kensington (Edwardes Square)
10 am - assemble at small park (Cremorne Gardens) at west end of Cheyne Walk, where it joins the Thames Path by Lots Road. There is no tube station nearby, but bus 49 goes about every 10 minutes from Kensington High Street down to near Cheyne Walk. Other buses include C3.
This small enclosed riverside park is a pleasant spot to start the final day, and it also gives a good vantage point to note the rather brutal juxtaposition of new Chelsea (see above) and old Chelsea ~ which we now explore.
This final day's walk has a different feel: not only is it a shorter, urban route, but it also has a distinctive suffrage theme. It visits the homes and studios of the suffrage artists and writers that Laurence Housman and his sister Clemence would have known.
10.30 ~ depart park, for beginning of Cheyne Walk. Here, facing the Thames, is the home of suffragette Maud Joachim (no 118), an artist active in the Chelsea branch of the Pankhursts' WSPU; Maud was among those who refused information to the 1911 census enumerator. Almost next door, no 120 was once the home of Sylvia Pankhurst.
The statue of Whistler near Battersea Bridge Road evokes Chelsea as a riverside location long favoured by artists - including, of course, Turner. From Beauford Street we turn right into King's Road - a nest of Votes for Women campaigners. No 308 was the Chelsea WSPU shop, while no 259 was the Artists' Suffrage League headquarters.
From King's Road, we catch no 49 bus, getting off at Kensington Palace stop. Cross into Kensington Gardens for a picnic if weather is good.
From Kensington High Street tube station we are not far from Edwardes Square and 1 Pembroke Cottages, home of Laurence and Clemence Housman. Here in 1911, Laurence hospitably opened his house to local suffragettes evading the census, while Clemence herself hid away from the census enumerator down on the Dorset coast.
The Edwardes Square neighbourhood was also a nest of suffrage campaigners. Novelist and suffragette May Sinclair lived in a small studio round the corner; and suffragist and writer Edith Palliser lived a few doors down.
We end the Laurence Housman sponsored walk at the Scarsdale Arms. We aim to reach there about 2pm-2.30; this busy pub also does food & tea/coffee. It stands opposite Laurence & Clemence's home, & from the safety of their windows, the two siblings relished watching Saturday evening fights as drinkers spilled onto the pavement from the pub.
Full details of the creative contribution of Laurence and Clemence Housman to the 1911 census boycott are given in Vanishing for the Vote: suffrage, citizenship and the battle for the census.
Walk distance: about 4-5 miles.
Thank you for supporting the Laurence Housman Anniversary Walk, and for sponsoring me via Just Giving - www.justgiving.com/Jill-Liddington3 It's much appreciated!