Laurence Housman Anniversary Walk:
Introduction

I hope you can support my my sponsored walk. It runs over nine days, starting on Friday 11th July at Bromsgrove in the Midlands. The distance walked is eighty miles through a wonderful countryside to London, arriving in Kensington on Saturday 19th.
The route takes us along the banks of the River Avon to Stratford, then heads through beautiful Cotswold villages to Charlbury near Oxford. We then take the train (avoiding Heathrow & motorways) to magnificent riverside Hampton Court. Finally, we follow the Thames Path downstream past Richmond and Chelsea to Laurence Housman's home in Kensington.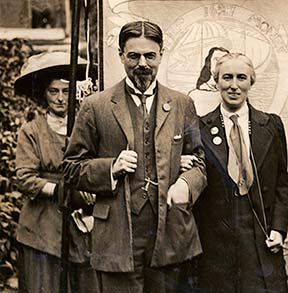 Laurence and his sister Clemence (right), Sept 1911.
Courtesy of LSE Library Collections (7JCC/O/2/144)
So who was Laurence Housman? Though he never achieved the fame of his elder brother, poet A E Housman, Laurence was an artist and writer who dedicated his considerable talents to the Votes for Women cause. In 1903, shortly before getting bitten by the suffrage bug, Laurence tramped from the south-west Midlands down to London, as his protest against speed, modernity and 'careering about in motor-cars'.
We are retracing Laurence's 1903 footsteps. Laurence was born in 1865 and plans to mark his 150th anniversary next year are gathering pace. For more on Laurence and suffrage, please go to 1911 census pages on this website ~ or look at Vanishing for the Vote (MUP, 2014). For more about his 1903 walk, please go to www.housman-society.co.uk and February 2014 Newsletter.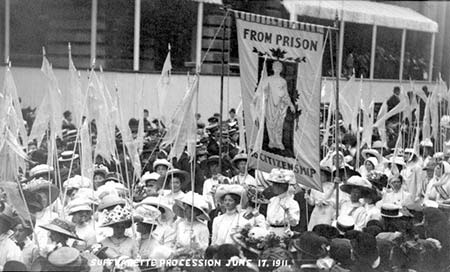 Laurence Housman's banner, 'From Prison to Citizenship',
procession June 1911. Courtesy of the Museum of London.
This sponsored walk will raise funds for Book Aid. Book Aid creates Children's Corners in public libraries in sub-Saharan Africa ~ because 'Books Change Lives!' We feel this is a charity that Laurence, a writer and also an internationalist, would have had close to his heart. If you would like to sponsor the Laurence Housman Anniversary Walk via Just Giving, please go to www.justgiving.com/Jill-Liddington3 adding your own name and short message to cheer me on ~ and the other walkers. We aim to raise £5,000 ~ and every donation, small and large, will help us reach this target. See note below. www.bookaid.org gives more information.
I will walk for the nine days and full distance of eighty miles. (The remaining route is covered by train, bus or car.) Each day, I will be accompanied by at least one other walker; and for much of the route many more will join us. When we set off from Bromsgrove on the first day, there may even be a small crowd.
I do hope you can join us for the section of the walk most convenient to you. Come for as long as you can. Just an hour is fine, cheering on the walkers. Come for a day. Or join us for two-three days, booking into overnight accommodation along the route.
The walk is open to all. You are warmly encouraged to pass on this invitation to friends. Unless you're booking overnight accommodation, you do not have to commit yourself in advance. Just turn up and join the walkers as and when you please!
Whatever you decide suits you best, you will be responsible for making all your own travel, meal and overnight arrangements. You do not need to let me know if you're coming or where you'll be joining us. Beyond a small cadre of core walkers, I will only have a hazy idea of who plans to participate. So come and surprise us!
Note: Please try and make your donation through Just Giving. It is a very simple way to sponsor. However, if you really do get stuck, cheques payable to Book Aid can be sent to: Jill Liddington, Foster Clough, Heights Road, Hebden Bridge HX7 5AZ. They will be entered manually onto the Just Giving running total, then posted to Book Aid headquarters in London.
Laurence Housman Anniversary Walk
- day-by-day summary: July 2014.
(A) South-West Midlands:
Friday 11th ~ Bromsgrove Station via Monarch's Way to Alcester.
Saturday 12th ~ Alcester via Shakespeare's Avon Way to Stratford.
Sunday 13th ~ Stratford via Shakespeare's Way to Chipping Camden.
(B) Cotswolds:
Monday 14th ~ Chipping Camden via Heart of England Way to Moreton in the Marsh.
Tuesday 15th ~ Moreton via Diamond Way to Shipton-under-Wychwood.
Wednesday 16th ~ Shipton via Wychwood Way to Charlbury near Oxford. Train to Hampton Court area.
(C) The Thames Path:
Thursday 17th - Hampton Court along riverbank to Richmond.
Friday 18th - Richmond along Thames Path to Hammersmith/Putney.
Saturday 19th - Chelsea via King's Road (then bus) up to Kensington High Street, ending at Edwardes Square, home of Laurence Housman.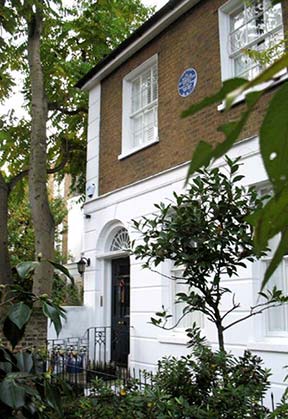 The home of Laurence and Clemence Housman,
Kensington. Author's collection.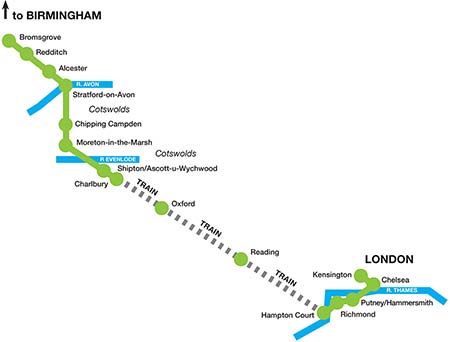 Map designed by Paul Grove
Click the map to enlarge it.