Laurence Housman Anniversary Walk Route
July 2014. (B) Cotswolds
4. Monday 14th ~ Chipping Campden to Moreton-in-the-Marsh.
Getting to Chipping Campden, Gloucesterhire - if you plan to join the walk here, a train leaves Oxford at 9.21, arrives Moreton 9.58; 10.45 bus, arriving Chipping Campden 11.12.

Start: as today's route is slightly shorter and walkers may need to replenish vital supplies, we're leaving time for shopping ~ and looking around the town.
11.15 - assemble at Visitor Information in town centre, for photo opportunity.
11.30 - depart.
OL45: from Chipping Campden - head south-east past school to Broad Campden, on Heart of England Way. Continue south, climbing slightly to Blockley, one of the very many small Cotswold villages dotted among gentle hills here. Heart of England Way (joined by Monarch's Way) heads south-east & slightly downhill ~ straight to Moreton in the Marsh, Gloucestershire.
Note: I haven't walked this stretch, but luckily it looks fairly straightforward.
Moreton accommodation: lots, though some expensive; includes Redesdale Arms Hotel, High Street ~ 01608 650308 ~ £105 for two.
Distance: about 7 miles.
Note: Moreton has a station ~ with rail links to Oxford & Evesham.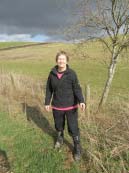 The Wychwood Way earlier this year - hence the mud.
5. Tuesday 15th ~ Moreton-in-the-Marsh to Wychwood.
OL45: I haven't walked section to Bledington, but it seems straightforward.
10 am - Moreton-in-the-Marsh, Redesdale Arms - lift by Housman Society member David Bell to Chastleton. From here, head south down Diamond Way to Adlestrop.
As Edward Thomas's poem suggests, Adelstrop is by a rail line; closed in 1960s, now there's no hint of even a disused station on OS map.
From Adelstrop, head south over A436 to Lower Oddington, continuing on Diamond Way - to Bledington (near Kingham station). Here turn left to join Oxfordshire Way - walking by River Evenlode, continuing near the rail line.
Reverse side OL45: Oxfordshire Way down to Shipton-under-Wychwood.
Walk distance: about 9½ miles.
Shipton accommodation: (at least) two, though one is expensive. The Lamb Inn, Shipton, High Street ~ £105 for two ~ 01993 830 465.
Note: both Shipton and Ascott, though just villages, do have stations but trains are very infrequent ~ unlike Kingham.
The Wychwood Way earlier this year - hence the mud.
6. Wednesday 16th - Shipton-u-Wychwood to Charlbury.
OL45 - from Shipton, head east on Oxfordshire Way, still following River Evenlode, to Ascott-under-Wychwood. Here Laurence Housman visited his cousin who, he informed Janet Ashbee, 'is living like a pig on acorns…in pursuit of the beautiful and true'.
OS 180 - from Ascott, head south-east along Wychwood Way, skirting past gentle hills and Wychwood Forest on our left. It's very pleasant walking.
Near Leafield, signage is poor: exit Leafield via Pay Lane (minor path) down to B4022; here branch left to rejoin Wychwood Way to Ramsden.
I haven't tried this section yet; but we now curve northwards, keeping Wychwood Forest hills always on our left. Minor paths up towards Finstock. The quickest route up to Charlbury appears to head north, not crossing the rail line until North Lodge; turn right here into Charlbury, then left to station.
Walk distance: about 10½ miles.
(Short cut would be along minor road from Leafield to Finstock).
Note: as we need to catch train, lunch stop etc may need to be shorter today.
Trains from Charlbury towards Hampton Court: Charlbury 16.10 & 17.10, arrive Reading 16.56 & 17.54 , depart 17.12 &18.12, arrive Felham 18.05 & 19.05.
Felham is about five miles from Hampton Court ~ so a lift appreciated.
For accommodation near Hampton Court, see route (C).
Note: the route was originally to cross the Chilterns via lovely Beeches Way. But for practical reasons (eg spring flooding along Thames) meant that we have had to cut this section.