Rebel Girls: Feedback
Who is your favourite rebel girl?
After reading the book, almost everyone has their favourite rebel girl.
For some readers, it is 16-year-old Dora Thewlis – because her defiance when arrested at Westminster shines through so vividly in the cover photograph and in her own words to the magistrate in court.
For others, it is Lavena Saltonstall – because of her witty writings reflecting back on how mothers fear their daughter will become socialists or suffragettes, 'a Socialist being a person with lax views about other people's watches and purses, and …a Suffragette a person whose house is always untidy'.
For some readers, it is the imaginative propaganda of the pioneer suffragists that catches their imagination – Florence Lockwood's impressive banner-making skills, or Isabella Ford's courage in joining the horse-drawn caravan tour through the remote Yorkshire dales.
For others, it is the maverick militants who joined the suffragette campaign later on. Of these, it may be Lilian Lenton – a fugitive so adept at disguises and escapes – who particularly remains in readers' memories.
Was your granny a suffragette?
By 1978 even Leonora Cohen was no longer alive: she died aged a remarkable 105 years old. In a new century, the Edwardian Votes for Women campaign has now moved well beyond living memory. Very few of the campaigners' sons and daughters are still alive – though many of their grandchildren, great-nieces and great-nephews survive.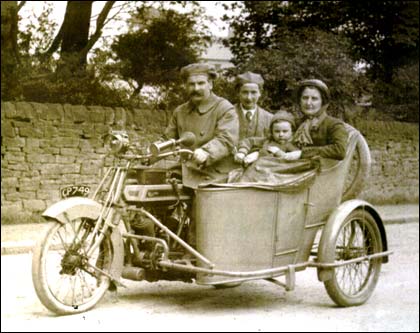 Since Rebel Girls was published in May 2006, a number of suffragette descendants have contacted me – and I have been delighted to meet them.
I knew little of Laura Willson till recently. Her grand-daughter still lives near Halifax and has now provided the only known pre-1914 photograph of Laura – as an intrepid motocycle passenger, with her husband and two young children, c1912.
Ellen Brooke of Wooldale near Huddersfield remained a rather shadowy figure in Rebel Girls. With so many local families having similar names, I found it difficult to be precise about Ellen. However, shortly after the book came out, Ellen's great-nephew made contact. Mr Lou Brooke was able to provide fascinating detail about Ellen's further militancy – in a 1908 Dundee by-election where she campaigned vigorously against the Liberal candidate, young Winston Churchill.
Also present at the election was a young trainee lawyer, John McGurkin. Ellen and John were married at the Methodist Church in Holmfirth in May 1909. Their great-nephew has kept a copy of the magnificent wedding photograph.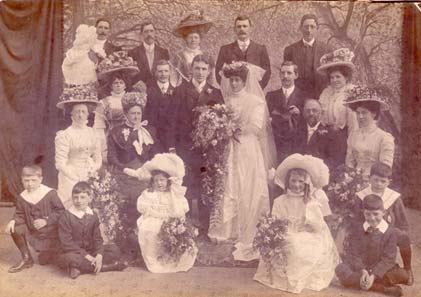 Click photo to enlarge