Who was Anne Lister?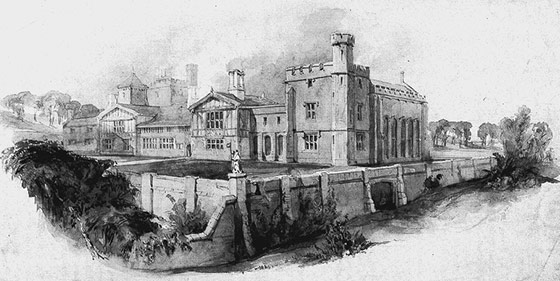 Drawing of Shibden Hall, 1836, by John Harper (reference SH:2/M/2)
West Yorkshire Archive Service, Calderdale
Meeting Anne Lister
I moved to Halifax in 1980. Naturally a visit to Shibden followed - and I began to hear about this extraordinary woman, living on my very doorstep! Yet it was only in 1984, when the Guardian ran an article, 'The two million word enigma', that I became aware of the diaries. It warned: 'many a curious amateur' has retreated 'thoroughly demoralized… before deciphering a single page'.
Then books began to be published - notably Helena Whitbread's I Know My Own Heart (1988). Her edited diaries of the young Anne Lister (1817-24) really sparked my interest. And in 1989, a Halifax Antiquarians' panel on Anne Lister aroused my curiosity yet further - especially about what editors had left out. I visited Calderdale Archives in Halifax where the Shibden papers are stored. I plunged in - starting with a rough word-count. To my absolute horror, the journals turned out to be not two but four million words!
By now I was gripped. I realized a full transcription was far too ambitious. Instead, I opted to transcribe three short selections from the diaries. The first, opening in 1806 when Anne Lister was just fifteen, showed how her secret code evolved and recorded her intimacies with other teenage girls.
The second section was from 1819, covering the tensions around the Peterloo Massacre and her complex flirtations with other women.
The third was from late-1832, recording both the first parliamentary election after the Reform Act, plus a maturer Anne's courtship and seduction of neighbouring heiress Ann Walker.
For each section, I examined the diaries' portrayal of Anne Lister, comparing these with the images presented by editors - from John Lister on. I remained hooked by Anne's extraordinary life: dazzling worldly achievements plus unbuttoned lesbian affairs.
Gentleman Jack: from History Workshop to HBO
Presenting the Past
Plunging the reader into the Archives, Presenting the Past offers the very first critical reappraisal of these dramatically different images of Anne Lister - and asks how and why earlier editors selected their version? Everyone seems to want to present their own portrait of Anne Lister!
These versions were largely shaped by shifting attitudes to homosexuality. John Lister died in 1933, taking his knowledge of the coded diaries to his grave. Halifax Borough now became owners of Shibden - and so of the of Anne Lister papers. Yet even as late as 1964, the Halifax Town Clerk suppressed public knowledge of the coded sections. For it was not till 1967 that male homosexual acts were finally decriminalized. Lesbian relationships had remained untouched by criminal law, yet were shrouded in prejudice and secrecy.
Finally, in summer 2017, LGBTQ celebrations on the fiftieth anniversary of decriminalizing male homosexuality greatly widened public fascination with Anne Lister:
Professor Alison Oram, Leeds Beckett University, on Presenting the Past:
'Anne Lister of Shibden Hall… was highlighted in our Historic England online exhibition, "Pride of Place: England's LGBTQ Heritage". I warmly welcome this new edition of Jill Liddington's classic work on Anne Lister, tracking the changing reception of the diaries' revelations about her sexuality and her bold and confident lesbian affairs - across 150 years.'
Nature's Domain: Anne Lister and the Landscape of Desire
However, the 1832 diaries continued to intrigue me. I was repeatedly summoned back to them - by other Anne Lister projects. These included a Channel 4 history of homosexuality programme; a digital 'Yorkshire Women's Lives On-line' project; and meeting scriptwriter Sally Wainwright in 2001. She wanted to portray Anne Lister in the mid-1830s, and plied me with enthusiastic questions as we walked round Shibden in the rain.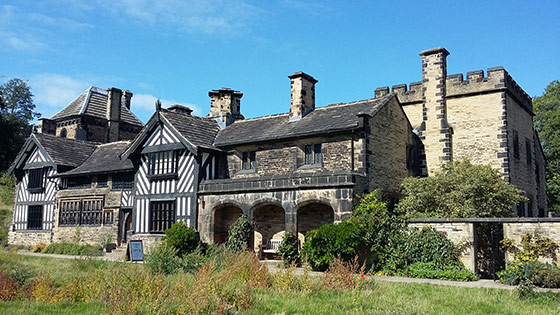 Shibden Hall 2018, its gardens adapted for filming.
So is Anne Lister an inspirational feminist icon, an LGBTQ heroine for our times? And is she really the first modern lesbian?
Calderdale Museums - Anne Lister of Shibden Hall
Historic England - Anne Lister and Shibden Hall
What did Anne Lister do - in 1832?
 
More information about Jill Liddington's books on Anne Lister, and her other publications.